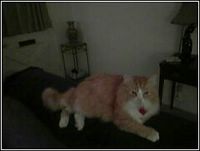 I'm allergic to cats. This is Percy.
Percy belongs to my friend Emily.
Percy hates me. Percy is soft and squishy. And he sheds. He'll let me pet him into a near coma. By then fur is flying everywhere. I'm sneezing and my eyes are tearing and my nose is itching. Today he tried to bite me. But I love him anyway. Sad isn't it?